Audio / Video Streaming Specialists
Professional Multi-Camera
We take your memorial service seriously which is why we use professional video cameras on tripods. This guarantees our live video stream will be clear and focused..
You will not see us hand holding an iPhone and calling it professional.
Integration of Videos
If you've had a memorial tribute video created for playback during your funeral service we can incorporate it into the live video stream without any trouble.
Ask us if you need help producing a Tribute Video for your memorial service.
Copyright Music
Our Live Streaming servers allow us to use copyright music during your live event.
Don't make the mistake of using Facebook Live or Youtube Live, because they will stop your video stream the moment they detect copyright music.
Be Careful When Doing It Yourself
"Facebook cut us off!"
✗ Be careful when trying to Live Stream video yourself, or with non-video professionals.
✗ YouTube Live and Facebook Live are free, but they will turn off your Live Stream if they detect copyright music being played during your event.
✓ That's why we use our own expensive Live Video Streaming Server. This allows us to stream anything we want, publicly or privately.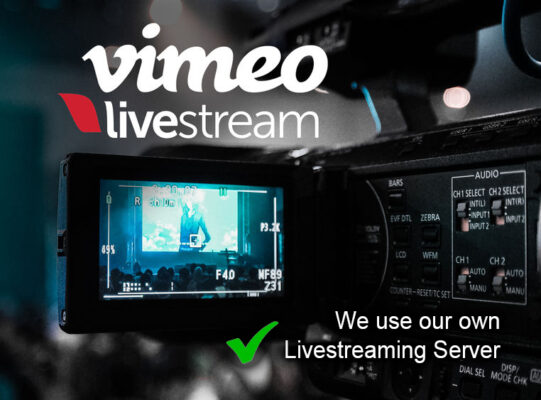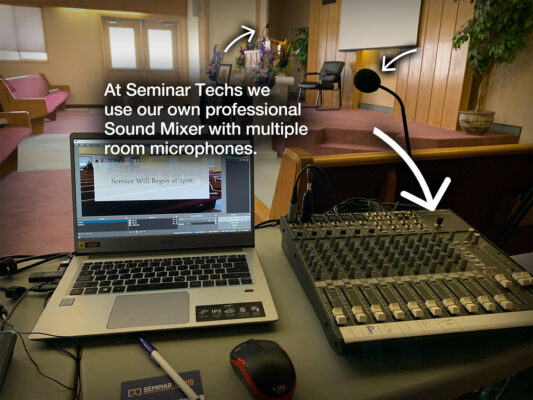 "Help, we can't HEAR!"
✗ Be careful when trying to Live Stream audio and video yourself, or when paying for non-professionals.
✗ If you're just holding up your cell phone, or a video camera and trying to record the room audio, you're going to Video Streaming very poor quality audio.
✓ That's why we use a professional Audio Mixer. When we're streaming an audio signal we manage the different sources of audio independently through a sound mixer. This is the only way to clearly hear different aspects of the live service.
"Why is it so blurry!?"
Professionals use tripods and cameras, not hand-held iPhones.
✗ If you've paid someone to help you Live Video Stream your Memorial Service, and they're using an iPhone, then they're not professionals.
✓ Nothing provides as sharp and clear an image as a professional camera and tripod.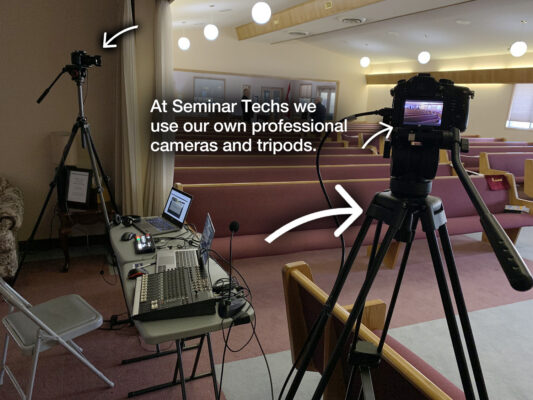 Full Service Package
✓ This Livestream service includes the use of two professional cameras, audio/video switching, and streaming with one operator.
✓ We create a custom webpage that you can share directly with family and friends. 
✓ You can watch the event Live, and will be available anytime afterwards.
✓ There are additional options such as making it downloadable, with or without a password, and includes the option for leaving special messages from viewers.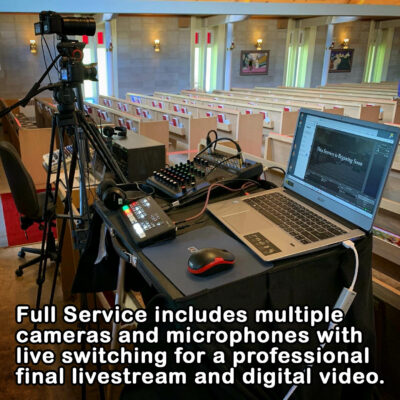 Live Funeral Video Streaming Services
✓ Live Stream with Archive Playback
✓Full HD – 1080P Live/ 4K Recording Option
✓ Digital Copy Downloadable
✓ Clear and Focused Professional Multi-Camera
✓ Integration of Memorial Videos
✓ Crystal Clear Professional Audio
✓ Streaming to Private or Public Webpage
✓ Password Protection Option
✓ We handle all of the tech
✓ No Copyright Music interrupts during the Live Stream